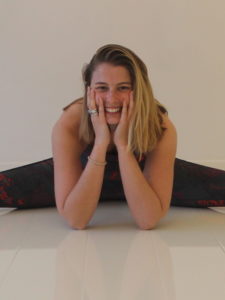 For me, Yoga started as a means to help build strength in my very weak knee as an 18-year-old. 
From the outset, I enjoyed the physical challenge and the improvement in my knee but the main aspect which got me hooked was my increased state of wellbeing and calm.
Two years ago, I completed my 200-hour Hatha and Vinyasa YTT at Rishikesh Yog Peeth, India. 
I trained under some amazing and truly inspirational teachers – Roshan Singh,  Deepa Lakhyani and Mimi Adeogba.
I then continued my training with Cherie Lathey of Yoga Mama. I am a certified teacher with Yoga Alliance, Yoga Alliance Professionals and Yoga Mama, and I actively continue to explore and broaden my understanding of Yoga and its many forms. 
I will be teaching a Hot Vinyasa Flow class twice a week at Hot Lotus (Hot Flow with Flo!) and I can't wait for you to join me on the mat. I look forward to seeing you there.