Why do Yoga?
Yoga isn't just for the super bendy, super fit and 'Chelsea set'!  The extensive benefits of yoga are well publicised in modern media, and it has become a firm mainstay of Western culture.
Yoga can benefit anyone, whatever their body shape, level of fitness, flexibility and stage of life.
Yoga will improve your flexibility whether you can touch your toes or not! It will improve your strength and stamina, improve your posture and range of movement. It will also make you feel really good! It helps aid relaxation and restore sleep patterns. The perfect way to counteract our hectic modern lifestyles.
We offer a range of classes to suit everyone from babies and children, all the way through to adulthood and advanced years. Regular yoga will increase flexibility, improve your stability and strength, and promote a general sense of wellbeing.
---
Hot Yoga 26
Our Hot Yoga 26 class is the original form of Hot Yoga, the Bikram series of 26 postures and 2 breathing exercises. Suitable for all levels, our classes are either 90 mins, 75 or 60 minutes and are taught in a room heated to approximately 40°C. All Hot Lotus Hot Yoga 26 teachers have trained with The Bikram Yoga College of India.
The Bikram Series systematically works every muscle, tendon, joint, ligament, organ and gland. It also moves oxygenated blood to the cells of your body. By the end of the class, you'll feel rejuvenated and re-energized.
The sequence of 26 postures was scientifically designed to systematically and progressively work every muscle, ligament, tendon and joint, moving fresh oxygenated blood around 100% of the body, into each and every organ and fibre, restoring all systems.
We practise the same postures every time, actively encouraging you to maintain and improve focus, stimulating and improving a mind-body connection.
Every posture prepares you for the next, and each proceeding posture gains from the previous one, resulting in incredible benefits that include improved posture, muscle and joint mobility, concentration, increased energy, and overall rejuvenation.
Top reasons for practising Hot 26
Hot 26 offers a complete body and mind workout resulting in improved physical and mental health
Strength, flexibility & muscle toning – the postures systematically & progressively work every muscle, joint, ligament and tendon in your body
Weight Loss – rebalances your metabolism and on average calories burns between 600 to 800 calories per class
Detox – the heat and humidity are careful controlled to encourage you to sweat. In doing so sweat flushes toxins and metabolic waste from your body, improving circulation and complexion
Rehabilitates injuries such as knee and hamstring issues, and improve your overall performance
Reduces stress by teaching you breathing techniques that calm the central nervous system, eliminating stress and anxiety and teaches you live in the present moment
Re-balance hormones– Every gland in your body is stimulated, improving poor wake-sleep cycles, depression, metabolism, immune system, sexual/reproductive systems and hunger cravings
Enhanced Focus & Concentration – Physically working hard in a hot room forces an unparalleled connection to your body and mind, producing heightened mental clarity
---
Hot Flow Yoga
Our Hot Flow 60 class is a Vinyasa Flow Yoga – Vinyasa refers to 3 movements/postures – plank, upward dog (Cobra) and downward dog. These 3 postures are used to link other postures together to create a seamless flow of movement.
The purpose of the flow is to keep your practice moving which helps to improve cardio and stamina as the body is moving moderately or vigorously (depending on your level of fitness) for an extended period of time.
It has a similar effect to other cardio workouts such as running and aerobics but without the stress on the joints and with the added benefit of improving flexibility and core strength. It really is a total body workout.
The addition of the heat helps to increase your cardio workout and aids with detoxification through sweat and well as helping you get further into postures.
Hot Flow classes are fun and varied, so don't expect the same class each time although the key postures will be practiced each time these could be in a different sequence.
Suitable for beginners and those who are already regular practitioner's classes will often follow weekly themes and will be fine-tuned to the level and abilities of students.
---
Iyengar Yoga
The Iyengar method of Yoga focuses on correct alignment of the body – ensuring you are working safely – with maximum benefit to your flexibility, strength and wellbeing.
Classes generally start with simple poses and gradually move towards more advanced poses, ending with a period of relaxation, sometimes incorporating breathing techniques.
Props, such as bricks, belts and chairs are sometimes used in class to allow those with less strength or flexibility to work correctly and achieve their full potential.
The immediate benefits of Yoga are improved flexibility, strength and physical health. As you continue with your practice, psychological and spiritual benefits begin to appear.
---
Yoga for Athletes
Yoga is especially good for athletes! All the work on the field, the gym or the court can put a lot of strain on your muscles, and yoga is the perfect activity to help athletes stretch and de-stress. Yoga can make an effective addition to a post-training muscle-recovery protocol. It has become an essential tool for many sports and athletes from footballers to boxers, tennis players to triathletes.
At Hot Lotus we have the added benefit of heat which assists your muscles and ligaments in relaxing enabling you to get further into postures and a deeper stretch with less risk of injury or strain.
One of the most important things when doing Yoga as an athlete, is to stay in tune with your body. If something hurts, don't push yourself. Back off, and ease into the pose. Yoga isn't a competition, and what you can and can't do will vary day to day. The most important thing is for you to stretch and feel good. Get rid of some of the tension that you may have from your normal sport, and leave your mat relaxed and happy.
---
Yin Yoga
Yin is a great compliment to our normal "yang" styles of yoga at Hot Lotus. This nourishing and releasing practice involves gentle postures and shapes where experimental exploration is encouraged to rejuvenate, relax, refresh and restore you. 
Within a yin class asanas (postures) are held for longer periods of time—for beginners, it may range from two to five minutes; more advanced practitioners may stay in one asana for eight minutes or more. Students are encourage to release all tension in muscles so that the asanas, held for longer periods of time, can access deeper tissues.
Yin Yoga poses apply moderate and healthy stress to the connective tissues of the body—the tendons, fascia, and ligaments—with the aim of increasing circulation and movement in the joints, bones, tendons and improving flexibility.
Yin yoga will give you that opportunity to commit to stillness, observing what arises, releasing and letting go, opening, creating space and allowing your self-time to discover who you are.
Instead of focusing on building strength, Yin focuses on flexibility and relaxation by targeting deep connective tissue. Yin Yoga is suitable for all levels and for Beginners especially who may be particularly stiff we have a range of props such as blocks, blankets, bolsters, pillows, etc to assist in getting the most out of the postures.
Yin Yoga practice restores and supports balanced Qi (vital life force) flow within the meridian pathways. 
---
Workshops
Hot Lotus will be holding a number of Relaxation Workshops to unwind, release and let go.
Tibetan Singing Bowls
 Tibetan Singing Bowls have been used for centuries for healing and meditation purposes. They create a range of sounds to restore the normal vibratory frequencies of diseased and out-of-harmony parts of the body, mind and soul.
They are also a great meditation tool and the use of singing bowls has been on the rise in the western world due to their immense benefits. During the singing bowl element of the workshop the soothing sound will heal and soothe the body. There are so many benefits of using singing bowls, including:
Reduce stress and anxiety significantly
Lower anger and blood pressure
Improve circulation and increases blood flow
Deep relaxation and pain relief
Increase mental and emotional clarity
Promote stillness, happiness and well-being
Stimulate the immune system
Sound Gong Baths
What happens in a sound gong bath? You lie down in a comfortable position, the room will be gently warm to relax you – close your eyes and just listen to the sound of the gongs wash over you.
Within 20 minutes your brain changes state and your body relaxes. Your body will do what it needs, from sleeping to having visualisations. When the session is over which is normally around 45 minutes light percussion is played to help gently wake your body and energy back up. You often feel like just a few minutes have passed or a few hours has passed, either way you feel great!
It is a sound detox as the sound will last for three days in your system. You must drink lots of clean water afterwards and most people experience a happy buzz for days.
For some people they might notice emotions that come to the surface and you may find your life purpose is more clear. The power of gongs is amazing!
The power of gongs helps us easily and it is the act of not doing but listening. Too often people this of meditation as something hard and that you have to fight against.
When you attend a gong bath you will see and feel how easy this type of meditation is as the tones carry you away to where ever you need to be without judgment or inner criticism.
What are the main benefits:
Drop into an effortless state of relaxation
It's deeply rejuvenating for our bodies and cells
It can be very transformative in helping you with unblocking emotions
---
Restorative Yoga
We offer two restorative classes each week, Mondays at 10am is a 90 minute class which will consist of a 75 minute restorative yoga practice and 15 minutes of Savasana / relaxation. A great way to rest after the weekend. Our second class is on a Friday evening at 8pm, this express 60 minute class is a great way to unwind and relax after the working week.
Your restorative class is a warm class to allow you to get deep into stretches and allow for a more relaxing and restorative experience. The class sequence is designed with our staple Hot yoga and Pilates classes in mind, allowing you to ease any aches or tension.
During the long holds of Restorative Yoga your muscles are allowed to relax deeply and this is because props, rather than your muscles, are used to support your body. Restorative classes are very gentle and slower in pace, making them a good complement to more active practices and an excellent antidote to stress.
The sequence of Restorative Yoga poses will calm and reset your entire body and mind to prepare you for ultimate relaxation in a long Savasana and meditation.
Additional props and blocks are provided – as usual you can bring your own mat and towel or these can be hired. Please consult the timetable for the dates of classes as these run fortnightly.
---
Ashtanga Yoga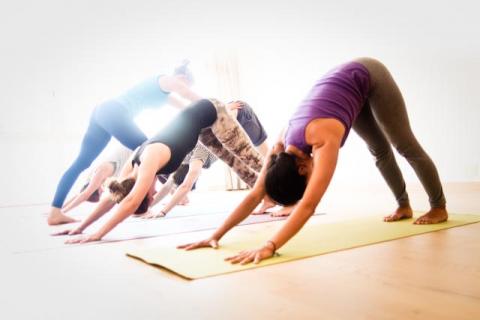 Join us each Wednesday morning at 10am of 90 minutes of Ashtanga. Our Ashtanga class focuses on the primary series and is a set sequence of postures that start with sun salutations before moving on to standing postures , seated postures, a finishing sequence and finally relaxation.
Ashtanga Yoga is a dynamic Yoga method created by Sri K Pattabhi Jois in Mysore, India, in the mid 20th Century. Our Ashtanga class is a set sequence of postures (just as our Hot Yoga 26 is a set sequence of postures) that start with sun salutations before moving on to standing postures, seated postures, the finishing sequence and finally relaxation. As with Hot Yoga 26 practicing the same set sequence really gives students the opportunity to develop their practice and see progression.
For some, Ashtanga Yoga is a spiritual practice while for others it is more physical; whatever your motivation Ashtanga practice is an opportunity to release the mind from day to day distractions.
Although Ashtanga isn't practised in a heated room, it can be energetic and you might sweat a bit! At Hot Lotus we teach from the Primary Series (known as Yoga Chikitsa or Yoga Therapy) which is comprised mostly of forward bends.
The postures are connected with vinyasas, or 'jump backs' and 'jump throughs'. What is beautiful about the method is the breathing technique where every inhale and every exhale is linked to a specific movement.
The breathing, the vinyasas and the postures heat the body from the inside out and the body is realigned and detoxified. An inner strength is developed as your general health, well-being and mood are lifted.
This class is suitable for both beginners and more experienced Yoga practitioners as our teacher will guide you through your practice, making modifications according to your experience and flexibility.
---
Rocket Yoga
Larry Schultz created The Rocket® Routines in the 1980s. Rocket Yoga comprises a series of postures based on a modification of the traditional Ashtanga Vinyasa Yoga series including Surya Namaskar, standing, seating and twisting postures with the addition of handstands, arm balances and inversions.
These routines are appropriate for all levels of students, with plenty of ways to modify the classical poses, the benefits of the poses are transmitted equally to renew vitality and energy creating the perfect marriage of tempo and sequence.
It's a strong, powerful practice which is done to music using both breathe and movement.
This vibrant routine is called the "Rocket" because, "it gets you there faster." The Rocket® is designed to wake up the nervous system and the sequences will leave you with the feeling of being stronger, lighter and more flexible. Sweating is encouraged to purify and reshape your body.
The only way to fully understand the Rocket is to take a class and experience the yoga magic for yourself.  Try out Rocket Yoga here at Hot Lotus. Classes start on January 10th, 2019.
---
Yoga for Teens (Exam stress-buster course)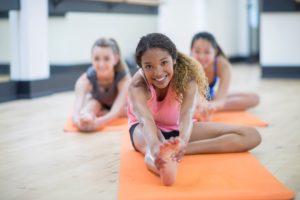 Introducing teens to Yoga can be enormously beneficial for them.
Being a teen is stressful. From academic pressure, to hectic social schedules, and trying to prepare for life after school, teens have a lot on their plates. Things can really seem to pile up this time of year with the stress of exams looming.
Stress can manifest itself in multiple ways, from mental turmoil to physical pain. Some young people will find themselves feeling anxious and even depressed when they can't effectively manage stress. Others notice physical ailments like neck and back pain, or digestion problems.
Finding a way to deal with stress effectively is important to help maintain balance. Taking a break from work can actually help in the long run. Taking a positive break can help teens to return to study with a renewed sense of purpose.
Starting Yoga as a teenager can help with self-confidence, building a more positive relationship with themselves and their body image, improving anxiety, relieving stress and developing mindfulness techniques that will stand them in great stead as they move through life.
Physically, yoga supports growing bodies, develops good posture and helps with flexibility, supports the immune, respiratory and circulatory systems and improves coordination and balance.
Yoga can help teenagers reduce their symptoms of stress, helping them learn strategies to manage stress on their own terms. This is especially true during exam time, when they can feel extremely stressed.
The key benefits of Yoga for teens/young people are:
Emotional & Mental Benefits
improves concentration and energy levels
reduces stress and anxiety
encourages a positive relationship with the body
releases anxiety and feelings of negativity
brings clarity and calm through relaxation and meditation techniques
enhances stillness of mind
improves memory retention
creates a deeper sense of self-awareness
encourages creativity, self-expression and self confidence
Physical Benefits:
recharges the immune system
supports the respiratory and circulatory systems
maintains flexibility and joint mobility
prevents sports injury
develops good posture
tones the body and stabilises core muscles
improves coordination and balance
encourages healthy sleep patterns
Our 6-week course has been designed to help students learn ways to de-stress and keep calm in the next few months in the lead up to exams. The course will centre around stress relieving yoga poses, breathing techniques and mindfulness practice, but most importantly it will be fun.
Through breath work and specific poses, students will gain a sense of calm, clarity, and focus, all of which will lower their stress levels during exam time.
The course starts on Sunday 7th April and runs for 6 weeks (there will be no class Easter Sunday), finishing on Sunday 19th May. The cost of the course is £50. For planned holidays a discount can be arranged.
Spaces are limited so book early to secure a space.
---
Come and try a hot class and see how it can improve your performance in your sport.
We can also arrange private sessions for groups or clubs. Please contact us for details.