Hot Lotus is a dedicated Hot Yoga and Pilates studio based in Stockport offering a range of heated and unheated classes to the local community. With classes suitable for beginners to more advanced the studio offers "Real Yoga and Pilates for real people".
Hot Lotus Wellbeing Hub is purpose-built studio featuring state-of-the-art heating equipment, sound and lighting as well as well-appointed public areas, toilets, changing rooms and showers.
Situated within Pear Mill, a Grade II listed Mill, which is a vibrant and bustling location complete with vintage emporium and fabulous tea rooms. It has excellent transportation links, being less than 5 minutes from the M60 and has the advantage of ample free and secure parking on site as well as good public transport links.
The studio opened in September 2018 and very quickly flourished via word of mouth with many students coming from the local area and all over the Greater Manchester area but also from as far afield as north Wales and Yorkshire.
The secret to Hot Lotus' success? Apart from the unique classes Hot Yoga 26 (Bikram) and Inferno Hot Pilates (only studio in the North West to offer this) the state-of-the-art studio, with its bespoke design, it really does have the WOW factor and not what you expect to find in an old mill!
Of course, it's not the fixtures and fittings that make a studio, success lies in the warm welcome and the sense of community. Heidi and the team have made it their mission to create an environment which makes Yoga and Pilates accessible to all, whether you have never taken a class before or whether you are looking to up your game. Young and old, male and female, all come to help improve their physical and mental wellbeing.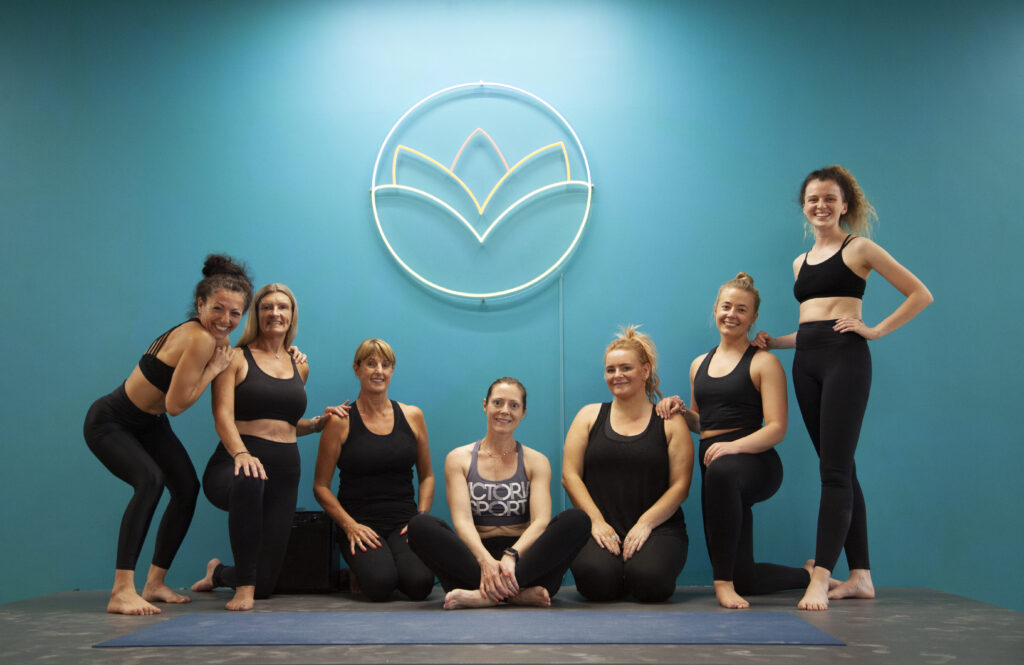 The teaching team has a wealth of knowledge and are all experts in their field. Able to guide even the most inexperienced student through practice as well as ensuring that those with more experience who want to push themselves to the next level can achieve their goals.
It hasn't all been plain sailing. The impact of Covid-19 has been challenging, (as for so many small businesses), but Hot Lotus has turned challenges into opportunity. Live streaming replaced in-studio classes overnight during the first lockdown, which led to the launch of Hot Lotus Live in September 20 – a dedicated on-demand platform giving students the ultimate flexibility to take class at a time to suit them.
The studio reopened in May 2021, with careful social distancing and limited class spaces, to give students more personal space to practice in and this has reduced capacity.
With more students keen to return, and new students desperate to join, the solution has been to expand into a second fabulous space within the Mill – The Lotus Lounge situated on the fifth floor. This second studio is open-plan in design and has a laid-back vibe.
It has provided a great opportunity to expand the schedule and offer more unheated classes – Vinyasa, Iyengar, Yin and Restorative yoga – as well as providing the opportunity to add more of the popular exercise classes – Mat-based Pilates, Barre Pilates and Sculpt. The Lotus Lounge also provides a permanent home for the much-loved dome which is the perfect place to enjoy more restorative practices and Yoga Nidra.
With the opening of The Lotus Lounge and the expansion to the schedule it's a great time to discover what Hot Lotus has to offer. You can be guaranteed a warm welcome and a safe place to practice.